Are you having trouble losing weight? If you've been supporting your hypothalamus with Genesis Gold® but you're still having trouble sticking with a diet that enables you to burn fat, I'd like to recommend Lumen.
Lumen is a hand held device that measures how much carbon dioxide you're breathing out. The more CO2 you breathe out, the more likely you're burning carbohydrates for energy rather than fat. In order to lose excess weight, your body needs to be able to utilize body fat for energy.
After a few weeks of using Lumen, it will calculate your metabolic flexibility score meaning how easily your body burns fat. You can see your progress overtime and more importantly, learn what you're doing – activity wise, sleep wise, diet wise – that may be affecting your ability to burn fat.
Lumen Review
I was asked a couple months ago to review Lumen. It comes with an interactive app that interprets the metabolic data and develops a nutritional plan for the day to encourage your body to burn fat. The app has a wide range of food choices with macros measured. So you can easily record your food intake to determine if you're meeting your nutritional goals. You can also record your activity, sleep, and other lifestyle goals on the app.
If you are having trouble counting your macros and not sure if you're in the process of burning fat, Lumen is a great tool for you.
As a postmenopausal woman, I told the app that I would like to work on my fitness. The app asks for your height, weight, age and for women – menstrual status. Without extra measurements like waist and hips, the app can only use BMI. This is not an accurate measurement of body composition.
As a healthcare practitioner who knows nutrition intimately and can eyeball a plate and count the macros and estimate the micros, I have a few recommendations for the Lumen app…
In my professional opinion, the macros are a bit high for a postmenopausal woman expressing the need to lose weight.
The amount of fat that was recommended on my low carb days was higher than I could have possibly consumed. Even if I had eaten a stick of butter every day! Eating that much fat may increase the risk of gallbladder issues for menopausal women.
It's interesting to note that on the days where I could tell that my body was burning fat (I know because I crave carbs), the next morning I would measure in the fat burning zone.
On the occasional night that I didn't sleep well and felt a bit amped up (most likely from cortisol surging to get glucose to my brain), the next morning I would register high CO2. This means I was burning carbs, not fat.
Below is a week of my measurements: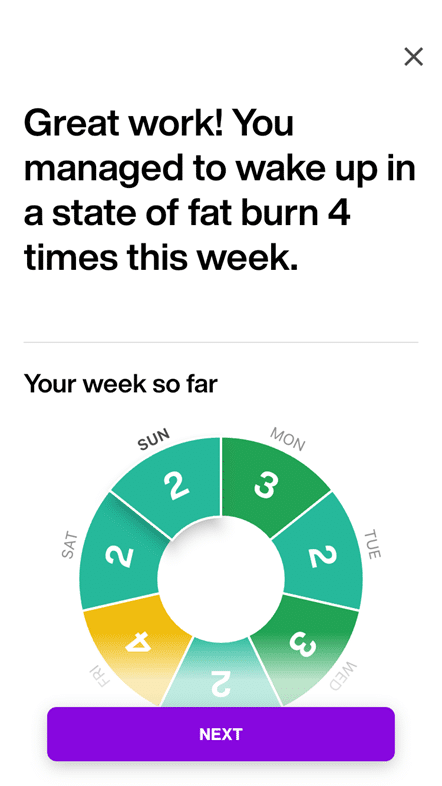 Lumen rates your CO2 measurements on a scale of 1 – 5 (1 means you're burning fat, 5 means you're burning carbs). The 4 is the morning after missing sleep taking care of my three year old granddaughter who had nightmares all night.
As an asthmatic, it took me a couple of weeks to get the breathing down to be able to register on Lumen. I had a little trouble with the prolonged exhalation. I found that I needed a longer inhalation in order to adequately exhale long enough to record my carbon dioxide.
A definite plus for Lumen is its accuracy in measuring CO2. The device was pitted against standard CO2 metabolic measuring devices in a National Institute of Health study and found to be accurate.
After your morning CO2 measurement, the app explains your results. It then recommends grams of carbohydrates, protein and fat for the day. It also has meal suggestions to help you stick to your macro goals.
Lumen is an excellent accountability tool to help keep you committed to your fitness or weight loss goals.
You record your meals and the app is well versed in foodstuffs so that it will automatically record your macros.
Record your daily activity, your sleep, log any goals you have, and Lumen will remind you of your goals and the activities that you've planned for the day.
Pros:
Sleek design
Comprehensive compatible app
Explanatory videos
Great customer support
Encourages accountability
Cons: 
Doesn't base macro recommendations on actual body composition
Macro recommendations do not take into account health conditions
If you need help losing weight, Lumen is an excellent tool to measure whether or not you're burning fat or carbohydrates. So you can stick with your fitness and weight loss goals.
Just use this link to get started. 
How can I reverse my insulin resistance?
To go from insulin resistant to sensitive to insulin allowing it to lock into your cell receptor sites and export glucose into your cells, you need to do four things:
Supporting your Hypothalamus is crucial to reversing insulin resistance. My patients have been successful taking Genesis Gold® every day

Exercise is critical to reversing insulin resistance 

Following an insulin resistant diet will help sensitize your insulin receptors

Getting adequate sleep in the dark helps reverse insulin resistance. 
You can read more about how to reverse insulin resistance here.
If you want to learn more about weight loss, please join our free Hormone Reboot Training.
Some of our posts at genesisgold.com contain affiliate links. If you click on an affiliate link and later make a purchase, we may receive a small commission. Clicking on an affiliate link which earns a commission does NOT result in additional charges to you or cost you anything extra. Mentions of associated products / services / businesses within the content of the blog may or may not be noted as an affiliate in every reference. Money earned via affiliate links helps pay the fees to keep this site up and running. Thank you so much for shopping through our links to show your support for the brands that we love and the products that we share!