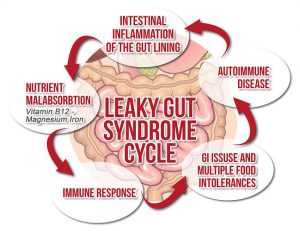 Stress connects insulin resistance and leaky gut. Chronic stress induces high cortisol levels which negatively affects your glucose metabolism leading to insulin resistance. Remember cortisol tells your body to release stored sugar in order to fuel the fight or flight response. It doesn't matter that you're stressed over politics, or finances, or a rocky relationship, your hypothalamic-pituitary-adrenal axis responds as if you're being chased by a tiger. Now if you're not running away from a tiger than you don't need all that released sugar so your fat cells store it for later. When the stress doesn't end, the rest of your cells become resistant to all that insulin and sugar floating around if they don't need it for energy.
Over time high cortisol levels can eat always at your gut lining causing leaky gut. Cortisol is catabolic meaning that it breaks down tissue. Too much cortisol means something is getting eaten away and your intestinal tract is highly susceptible to the excess cortisol. Plus when your adrenal glands are triggered to make cortisol in excess the immune modulating metakephlins they should also be making are affected which reduces your resistance to infection. Which is why you tend p get sick when you're stressed. And why you become hypersensitive and start reacting to certain foods which aggravates leaky gut syndrome. Plus your beneficial gut bacteria (probiotics) are disrupted by the high cortisol levels and high sugar levels which favor yeast overgrowth.
So how can Genesis Gold® help? By moderating your stress response and helping reverse insulin resistance. Plus Genesis Gold®  can help heal your gut lining. If you have bacterial or yeast intestinal overgrowth, you will need to treat it first. Then you can start healing your hypothalamic-pituitary-adrenal miscommunication with Genesis Gold®  and normalize your cortisol production, reverse your insulin resistance and heal your leaky gut.