Our community just survived the biggest fire in the history of the United States.
On December 6th, the beautiful Ojai valley was surrounded by the Thomas Fire.
In an emergency evacuation, you realize what's most important. You cannot carry much when you're running for your life. Just gather your loved ones and seek safety. Then count your blessings at each sunrise, with each breath.
This year so many have been affected by natural disasters.
The South floods, the West burns
The earth quakes and we all shift
No one shifts until they reach a tipping point –
Loss is a great catalyst – loss of home, health, relationships, jobs, identity, Love…
The healing balm is Gratitude for what is found after we suffer loss.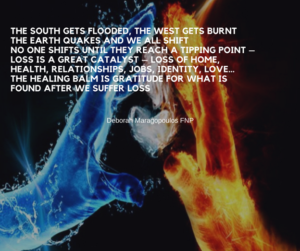 There is a lesson in every one of our life experiences.
For me – Fire and Wind symbolizes Purification and Change. Time to release the old – ashes to ashes- and Transform into my Truth.
We're attached to so many things – our roles, our stuff, our beliefs – most of which are not our Truth.
Yet this horrific fire which took so much from so many friends and neighbors also revealed a core truth about us. At the heart of our community beats compassion. Not waiting for governmental aide, Ojai came together to help those who lost their homes, who lost their jobs, who lost hope. Food, clothing, money, housing, resources were gathered and distributed, the holidays were celebrated, and the new year greeted with love.
We are not just surviving this disaster. We are thriving.
The key to thriving is to be truly present in each moment. Even the scary, fiery moments. Even the dark, ashy moments. Even this moment.
It's hard, I know, but when you're fully attentive to this moment without concern for what's going to happen next, or worry about what you did or didn't do before, you can receive the gift of now.
The problem for most of us is expectations. We expect life to turn out a certain way. And are disappointed when it doesn't. And spend so much time and energy bemoaning our dashed expectations that we miss the joy of the present.
Fire happens. Floods happen. Life happens.
In our first year of marriage, my husband and I survived a lot of life. We graduated college, moved to a new city, started our careers. As a cop and a nurse we worked shift work and rarely saw each other. My parents divorced. His father remarried. My grandparents died. I delivered our first baby prematurely and we both nearly died.
We survived yet it was my own ingrained expectations of myself that kept me from thriving.
I survived by cleaning. If I my house appeared to be in order than everything was ok, wasn't it?
I inherited my fanatic housekeeping honestly…my Nana always had a rag in her hand. And Mom seemed to earn her brownie points by keeping a pristine house which wasn't easy with four little ones, especially when we moved to a rural desert community. So after all us girls got married, we compared notes on how we would sanitize our houses even scrub our ovens before Mom would visit just like she did when Nana would come from Philly.
Not that Mom would make a comment but to be a good wife you had to keep a clean house, right? If your house was clean, then your life was perfect, right?
Mom was visiting once when Jarys was just a baby…cruising along holding on to the edge of my glass topped coffee table…and I was wiping up his little handprints behind him. Mom slapped my hand, "Don't be like me. Don't waste one precious moment enjoying your baby. The house can wait."
She was right. I took Mom's advice to heart. I played with my children. I still play with them and enjoy the time I spend with each and every one of my nieces and nephews. The children remind me to be in the moment.
Yet that doesn't mean that I didn't spend years trying to juggle all my responsibilities as a wife, mother, health care provider and all the other activities I overbooked my life with! I spent years feeling guilty that I couldn't do enough, be enough.
It was not until menopause – blessed hot flashes and sleepless nights – forced me to meditate on the meaning of my life, that I started to let go. It's not easy. I still struggle with "being enough" but every month it gets a little easier.
And then disaster hits. And you gather what's most important.

For me, it was my medical bag – perhaps I might help someone in need. With my loved ones by my side, I had everything…the stuff could be replaced. This moment cannot.
So we sweep up the ashes left by the Thomas Fire and celebrate our very breath.
Being present is a practice just like meditation. Every day we get to practice. The Thomas Fire brought out the best in all of us. Community, compassion, joyous service and love…each and every moment.
Just breathe in appreciation and receive the gift of this moment.
Here's a video of how to calm your anxiety when stressors are high…