Hormones affect Everything.
Your moods, your memory, your metabolism
Your appearance, your aging, your appetite
Your sleep pattern, your stress response, your sex drive
EVERYTHING!
Think of hormones as the software program of the human computer.
Many of us are so Hormonally Challenged
– sick,  tired, aging or just plain stressed out –
that we need a software update.
WHERE EAST MEETS WEST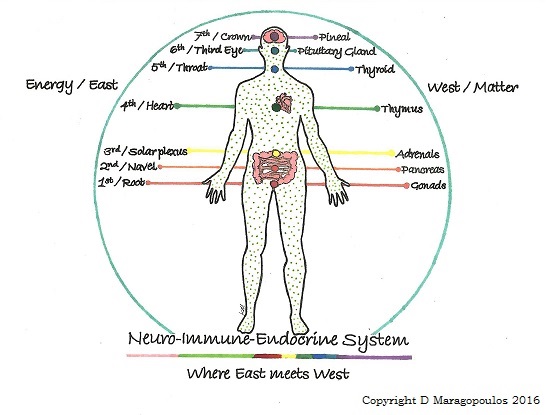 There are two philosophies of health care in the world. If you've ever had acupuncture, homeopathy, or body work then you've experienced energy-based medicine. If you've ever had surgery, taken an antibiotic, or had a cavity filled, then you've experienced matter-based medicine.
Of course energy and matter exist together. Eastern medicine is energy based. Western medicine is matter based. In the west, we assume that if we can't touch it, see it, smell it, it doesn't exist. Yet Einstein proved to us that matter and energy coexist. Matter cannot exist without energy.
If you've ever taken a yoga class, you may have been introduced to chakras. Chakra is a Sanskrit work meaning little wheels of energy. In Eastern medicine, chakras are power points. There are seven chakras. There are seven endocrine glands in your body. Endocrine glands produce hormones. Endocrine glands line up with chakras.
Hormones are the interface between the energy of the environment and the matter of your body. The glands that produce the hormes are the power points.
East meets West in the endocrine system!
Hormones affect everything – our nervous system, our immune system, even digestion and detoxification. These tiny messengers communicate to the DNA within our cells what's happening in the rest of our body as well as what's happening outside in our environment.
Seven chakras. Seven endocrine glands.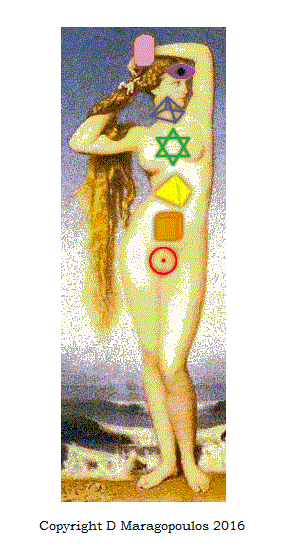 – 1st root chakra corresponds with your gonads: ovaries or testes
– 2nd naval chakra corresponds with your pancreas
– 3rd solar plexus chakra corresponds with your adrenal glands
– 4th heart chakra corresponds with your thymus
– 5th throat chakra corresponds with your thyroid
– 6th third eye chakra corresponds with your pituitary gland
– 7th crown chakra corresponds with your pineal gland
From the gonads in the root chakra to the pineal gland in the crown chakra, each gland produces unique hormones that carry energy messages.
Endocrine glands produce hormones. Hormones are messengers. Hormones communicate the energy outside and within your body to the matter of your body – to your cells.
Everything is about communication. If you're running a business and you cannot communicate with your staff, things are going to go wrong.
Same thing in your body. Miscommunication is the basis of dis-ease.
Dis-ease, not disease. Out of balance, out of harmony. Not a permanent state. Dis-ease.
Now when I say hormones, I'm not just talking about sex hormones like estrogen and testosterone. I'm not just talking about thyroid hormones or adrenal hormones. I'm not just talking about insulin or growth hormone or melatonin.
I'm also talking about the hormonal messengers that run your nervous system called neurotransmitters. Neurotransmitters like serotonin and dopamine are just smaller hormones.
And I'm talking about the hormonal messengers that run your immune system called cytokines. You may have heard of interferon or interleukin, these are cytokines, the tiniest of the hormones.

NEURO-IMMUNE-ENDOCRINOLOGY: THE SYMPHONY OF HORMONES
This entire system of hormones is called the neuro-immune-endocrine system. Medicine separates these into three specialties – neurology, immunology, and endocrinology – yet these three systems are dependent upon one another. To truly assess and treat a patient, I take them all into consideration.
While I'm going to focus on your symphony of hormones, your neuro-immune-endocrine system – your biochemistry – is part of the bigger picture that I call:
The DMAR® PYRAMID OF HEALTH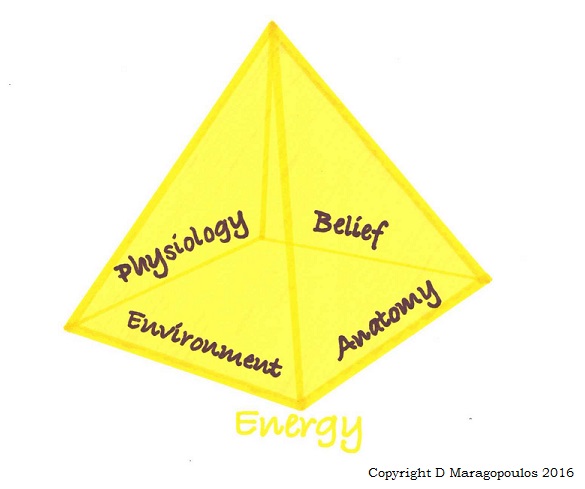 The DMAR® Pyramid of Health is the philosophy that I developed over many years of assessing and treating thousands of patients with hundreds of different complaints. And they all fit into this one system.
The base of the DMAR® Pyramid of Health is ENERGY. Remember, energy is everywhere, energy runs every system, and without energy, matter wouldn't exist. So when I say ENERGY, do I mean electric energy, or magnetic energy, or light energy? Yes, all this and more.
Let's say you walk into a conference room full of people. No one's saying anything, but you feel uncomfortable. You somehow know something's wrong. Perhaps the hair on the back of your neck is standing up, or your gut feels anxious, but you can feel the emotion in the room by its energy.
And guess what, if you're super sensitive, the people don't even need to be there. You could walk in an hour after the angry people left, or a day, or even week later, and feel the energy of their anger.
Have you ever been to a site where many people died? Few people that visit concentration camps can deny that they feel the fear still imprinted in those places. That's energy.
Ok, if this seems a little strange, let me ask the moms how many times have you woken up in the middle of the night knowing something was wrong with your child, rushed to her bedside and found her sick with a fever? That's energy. Your child didn't call out, she's way across the hall, and you were sound asleep. Yet her fear brought you to her side like you were tethered by an invisible cord. It's energy.
ENERGY is the base of the DMAR® PYRAMID OF HEALTH.
A pyramid has four sides.
One side is the ENVIRONMENT. Your health is affected by the environment in which you live. If the environment is toxic, your body chemistry is affected. For instance, people who live near nuclear waste, like Three Mile Island, have a higher risk of cancer.
One side is your ANATOMY. Your physical structure affects your health. That is the basis behind chiropractic and osteopathic medicine. If you're out of alignment, your health is affected. But it's more than that. I have many patients come to me missing body parts. A woman who's had a hysterectomy does not have the same function as a woman who has her uterus and ovaries intact. Missing body parts, especially endocrine glands, affect how your body functions.
One side is your PHYSIOLOGY. The way your body functions is your physiology. Your physiology includes all the biochemicals – hormones, neurotransmitters, immune factors, enzymes – that run your physical body.
One side is your BELIEF. What you believe becomes. That's the basis behind the placebo effect. If you believe enough in a treatment, it'll work, even if that treatment is a sugar pill. And your belief can cause disease. Let me tell you a story about Linda's niece.
Linda came to me with lump in her genital area. I didn't like the look of it so I biopsied it. It came back as metastatic breast cancer. Only 32 years old, Linda had three young children. Linda's fifteen-year-old niece was very concerned about her own breast health so I examined her. I reassured her that her breasts were healthy, and that she was not at risk of breast cancer like her Aunt Linda. Why? Because Linda's niece was her husband's sister's child. They were not related.
Linda's niece came to see me every month worried about her breast. I counseled her regarding how belief creates reality, trying to teach her visualizations and techniques to release her fear. Yet a few months after Linda died, her niece came to me with a breast mass in the same location of Linda's primary tumor. Her fearful belief created her tumor.
What you believe becomes. And your belief can heal you, too!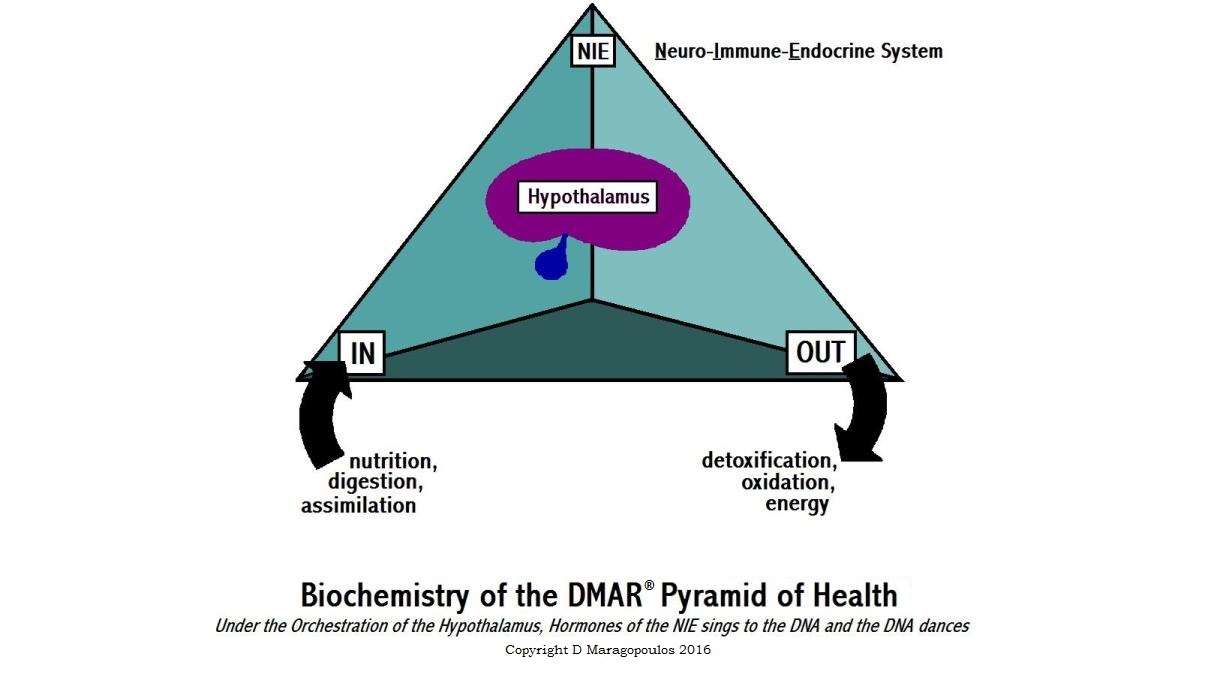 YOUR  THREE BRAINS
Notice on the East meets West diagram that there are three highlighted areas – one in the head, one in the heart and one in the abdomen. These are your Three Brains. Yes, you have three brains: Your brain, your heart, and your gut. Each of these organs produces the same neurotransmitters.
Neurotransmitters are the hormones of the nervous system. And they're produced by the gut as well as the heart. Ever been nervous before a big event? While your brain fusses over possible outcomes, your heart races and your stomach rumbles. Your heart and your gut make the same neurotransmitters as your brain. In fact, conventional medicine often treats irritable bowel syndrome with antidepressants and everyone knows that you can die of a broken heart (really severe depression means very little serotonin for the heart to function).
And guess what? Your brain is not number one. Nope! Your heart is your number one brain. Your gut is number two. And your brain comes in third. Third in importance. For you can't survive without your heart or your gut, but you can survive without a fully functioning brain. That's why people in comas can survive for years.
Your three brains make up the NEURO part of your neuro-immune-endocrine system.


YOUR INTELLIGENT IMMUNE SYSTEM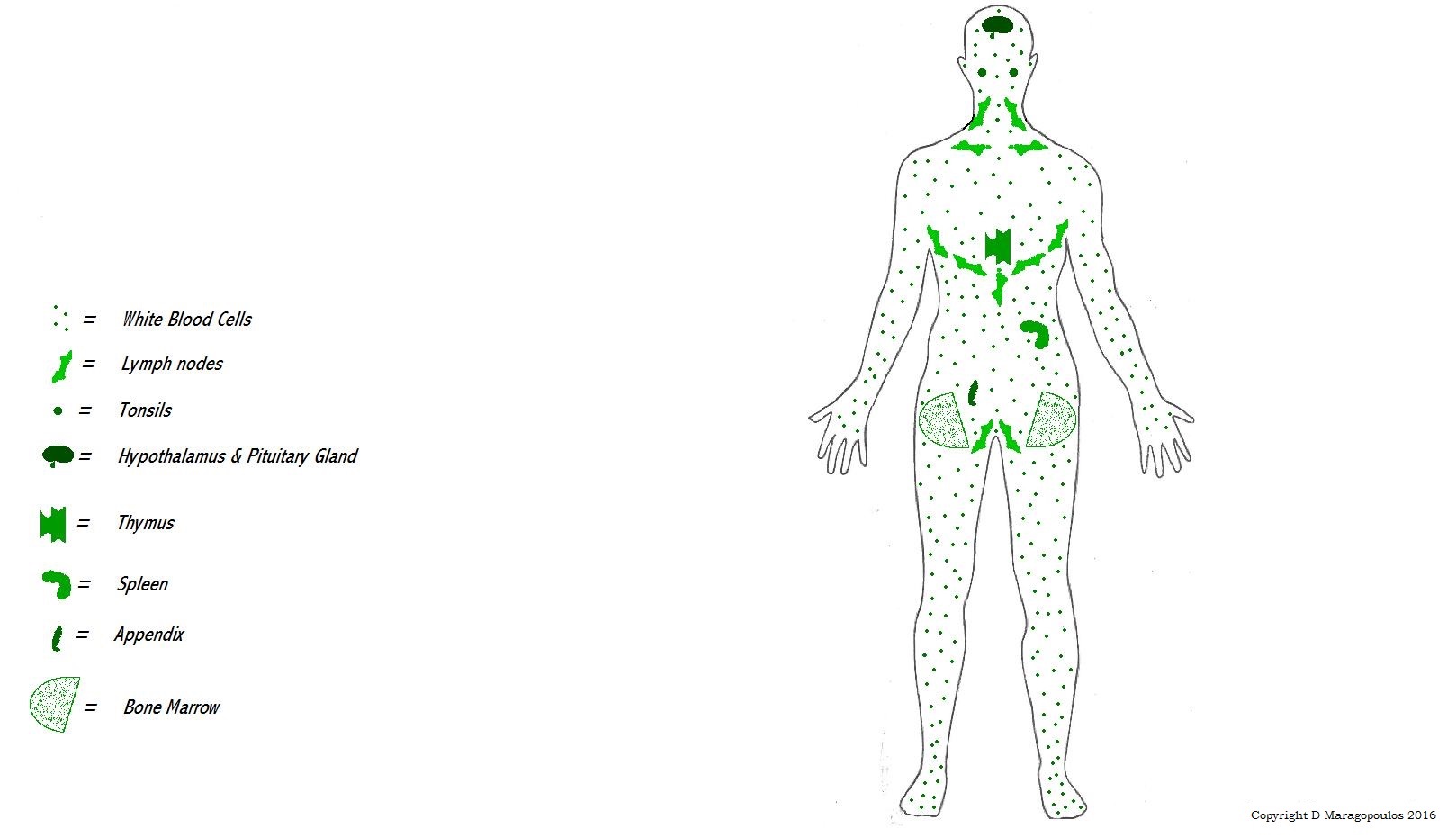 Now, look at all those little dots on the figure. These represent your white blood cells, the pony express of your immune system. Remember your immune system produces hormones too, called cytokines.  Your white blood cells carry the immune messages to all parts of your body.
You know when you're under a lot of stress and you become sick? You catch a common cold virus or break out in cold sores (the herpes virus). Stress affects the adrenal glands which, in turn, affects the immune system.
In the heart chakra lies the thymus – an endocrine gland responsible for programming the white blood cells to know the difference between you and other. Other what? Germs: viruses, bacteria, fungi, even weird cells like cancer. White blood cells (WBC) attack other and spare you. They do so best when you are asleep. Under the influence of melatonin produced by the pineal gland in the crown chakra, the body shuts down normal daytime function and switches into nocturnal mode. The adrenals stop producing the stress hormones adrenaline and cortisol and begin to produce metakephalins that stimulate the thymus to program the WBC's. All hormones, all the time!
High stress means high adrenalin and cortisol production interfering with sleep and effectively turning off the immune system, making you vulnerable to infection and over a very long period of time, cancer.
Your WBCs can travel anywhere in the body, even pass the blood brain barrier delivering messages called cytokines. Cytokines are the tiniest of the "hormones". These minute messengers instigate the immune response, whether that's a breakout of hives in response to an allergen or the attack of an invading virus. The amazing WBC carries on its cell membrane information about all the hormones, all the neurotransmitters, and all the cytokines in the body during its lifetime.
The neuro-immune-endocrine system is a massive communication network that makes the global internet look like child's play.
So if the neuro-immune-endocrine system is the software for the human computer, what's the operating system?

THE OPERATING SYSTEM: YOUR HYPOTHALAMUS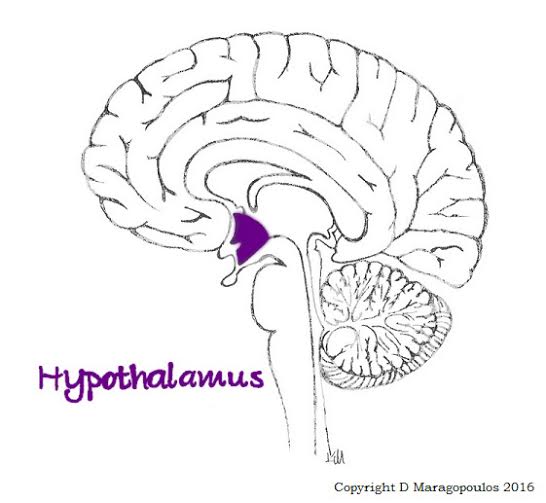 In the center of your brain, your hypothalamus lies vastly unappreciated. Part neurological tissue and part endocrine tissue, your hypothalamus is largely ignored by neurologists as a primitive brain structure. Endocrinologists pay it little heed because they cannot measure its hormones without sacrificing the lab animal. But your hypothalamus is crucial to life.
Your hypothalamus orchestrates your entire symphony of hormones.
If your hormones are harmonious, you are healthy, vital, youthful, and vibrant.
If your hormones are out of harmony, you are sick, tired, aging, stressed, and eventually dis-eased!
So to help the Hormonally Challenged, I focus on the maestro – your HYPOTHALAMUS.
*excerpt from the international best seller Hormones in Harmony®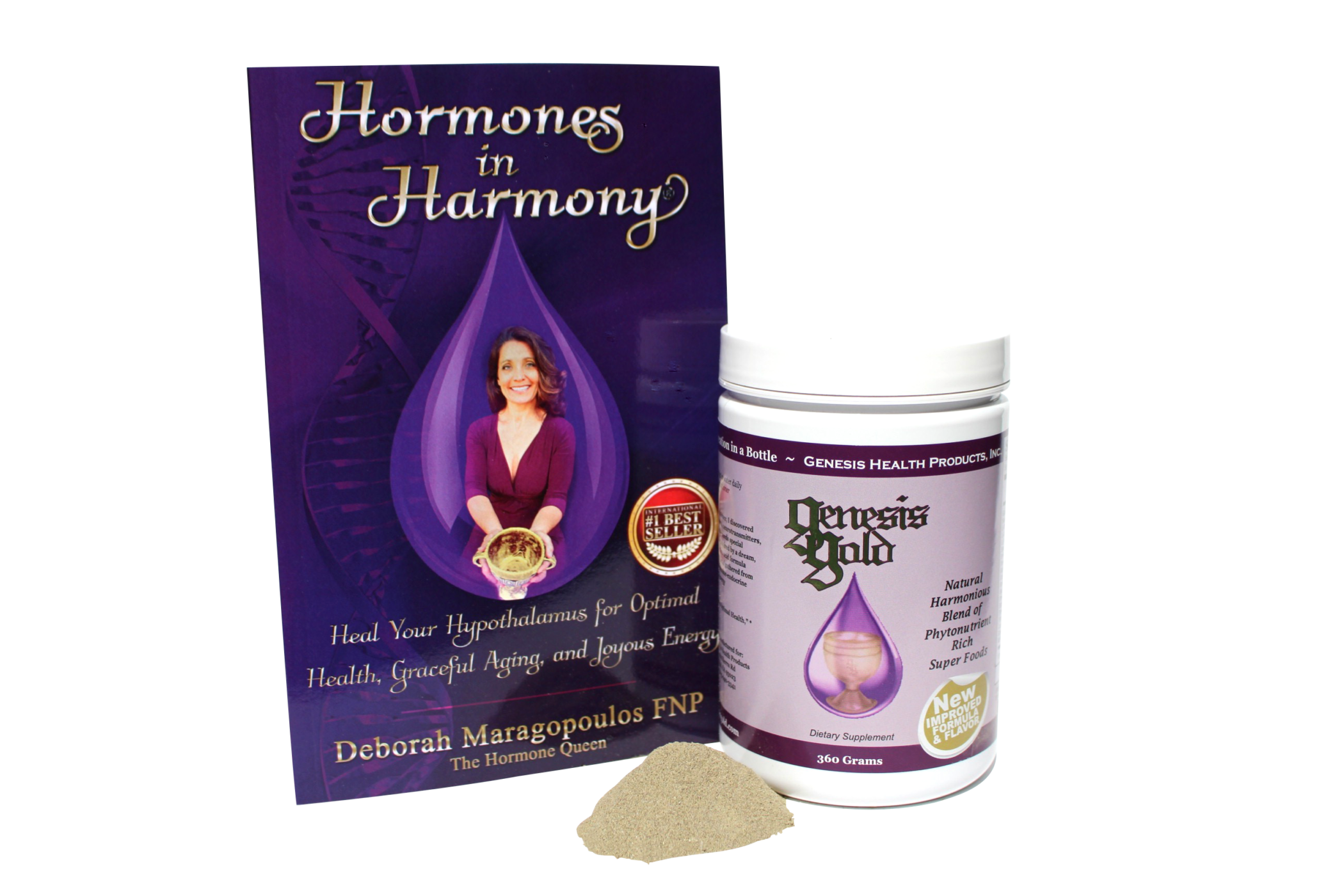 FREE Autographed book with your first purchase of Genesis Gold®